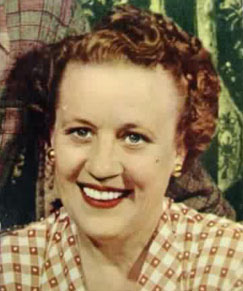 Dear Ms. McGee,

The other night my husband suggested that when our children are old enough to understand what they're hearing and seeing, we're going to get rid of cable television and start regularly listening to old time radio shows. What can you tell us about what's available, and what would you recommend for youngsters?

GF

***************

Dear GF,

Why not start now? Exposing babies to language in any way is nearly always positive (One soap box at a time, but baby sign is also a great way to accomplish this). Being able to do this without the negative effects of television's visual stimulation (see this article - and this one - for more on that) is the perk of Old Time Radio. You'd have to dig to find shows with questionable content, so you're pretty much safe with anything. Personally, I think the comedies are best for young 'uns. Of course my favorites are the staples: Jack Benny, Burns and Allen, and the inspiration for this blog, Fibber McGee and Molly. While I personally find her voice aggravating, little babies might enjoy the adventures of Baby Snooks.

You can even introduce your son (son, what? You said children. I must be psychic) to classic movies and stories through OTR. Every age is a good age for Bing Crosby. With Christmas right around the corner, Cinnamon Bear can be a fun romp for the kiddos, along with these classics - Jack Benny at his best.

The main benefit of getting your child interested in Old Time Radio from a young age, is how cool his Auntie Molly will think he is for it.